Lawyer SEO: Search Engine Optimization for Lawyers
Lawyer SEO projects involve researching what key phrases people are searching for and designing websites based on this information. At Silver Scope, our SEO consultants can review existing sites or develop new websites using our complete SEO services and legal services website design services. We have experience working on lawyer SEO projects, and can work with you to help you create a website that is an effective marketing tool for your law firm. To learn more about our lawyer SEO services for attorneys and law firms, please contact our SEO company.
Lawyer SEO Case Study: The Elster Firm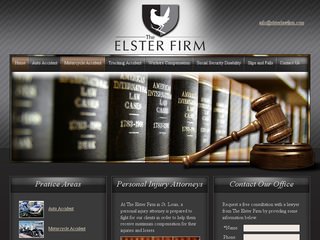 One of the recent lawyer SEO projects that our SEO experts have worked on was for The Elster Firm, a local personal injury attorney in St. Louis. For this project, we utilized a variety of SEO services including domain registration, SEO website design, SEO copywriting, local SEO, and a variety of other search engine optimization techniques. To learn more about this lawyer SEO project or how our lawyer SEO services can help your law firm, please contact us.
About The Elster Firm
The Elster Firm came to Silver Scope as a new law firm in the St. Louis area. The Elster Firm is owned by a single lawyer with experience working with a variety of personal injury cases. He was interested in lawyer SEO services that could develop a search engine optimized website for his new firm in order to attract local business from clients throughout the St. Louis area.
Our SEO Approach
When working on this lawyer SEO project, our SEO consultants wanted to focus on the specific types of personal injury claims with which The Elster Firm works. Therefore, we performed thorough research on possible key phrases in order to determine which phrases clients were searching for. We then created a page optimized for each of these relevant key phrases in order to highlight the services available in an easy to follow way and to attract search engine traffic. By performing this complete research during our lawyer SEO services, we were able to create a search engine optimized website for this law firm that will attract new business for a variety of types of personal injury cases and claims.
Other Lawyer SEO Aspects to Consider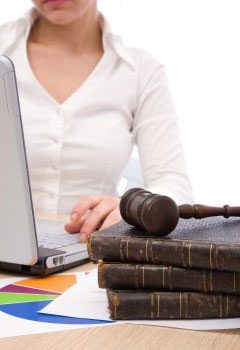 While each SEO project is unique, the main aspects that one needs to consider during lawyer SEO projects are generally consistent. This includes considering important aspects of a business such as the areas served and services offered as well as they types of phrases that potential clients may use when searching for a lawyer or attorney. By looking closely at each particular law firm when providing lawyer SEO services, we can develop websites that are the most effective and successful marketing tools for each law firm or attorney.
Aspects we consider during any lawyer SEO project include a law firm or lawyer's:
Coverage Area: The overall area a law firm or attorney covers is important when beginning a lawyer SEO project. Most law firms are typically smaller, local businesses, and therefore, require our local SEO services. This includes optimizing a website to rank well for searches performed within one main city. However, larger firms will need to optimize their website for multiple cities or states, which may include the development of individual pages for each area.
Specialty / Areas of Expertise: During lawyer SEO projects it is also important to consider a law firm's specialty or services offered when optimizing a website to rank well in search engines. This will help ensure that the potential clients who visit your website are looking for the specific services you can offer and not other types of legal services.
To learn more about how our lawyer SEO services can help market your law firm, please contact us today.